Our Mission
Arise and Walk Ministries is a Nigerian charitable NGO whose goals are to serve others and thus share the light of the gospel of Jesus Christ. We do so by providing low or no-cost prosthetics to Nigerians who could otherwise not afford a prosthesis. We are also using this ministry for the purpose of establishing a supply chain of affordable components to Nigeria, developing the prosthetic industry in Nigeria and for the training of indigenous prosthetists.
Our Ministry
How We Do It
When Arise and Walk sends prosthetics and components to Nigeria, we utilize them to subsidize limbs for the most Nigerians possible. Often those limbs are given directly to someone who needs it. In other cases, the best use for the prosthetic is to sell it to someone in Nigeria who can afford it, and then use that money to provide more cost-effective prosthetics for others. If donated prosthetics are sold, 100% of the proceeds go directly to subsidize prosthetics for other Nigerians. None of that money is diverted to cover overhead, it is all applied towards donating prosthetics and prosthetic services to needy amputees.
Arise and Walk works closely with Dynamic Prosthetics Nigeria, who provide care and prosthetic services to patients. Dynamic Prosthetics operates as a for-profit business, but 71% if the prosthetics its supplies are purchased or subsidized by Arise and Walk. For other patients, Dynamic also purchases all of its components from Arise and Walk and those proceeds are used to purchase prosthetics for those in need. This symbiotic relationship has enabled Dynamic Prosthetics to develop an organization that is widely considered the national leader in prosthetic care, while providing care for amputees that cannot afford prosthetics. Arise and Walk is a ministry of Reformation Baptist Church. It is wholly funded by the church and does not raise funds except through the sale of prosthetic components to Nigerians. We focus our efforts on obtaining used and new prosthetic components to be sent to Nigeria.
Means of Ministry
Utilizing donated, used prosthetics is the primary means we use to serve amputees in Nigeria. This may seem strange, unless you understand the US system for prosthetics. In the US, when someone receives a prosthetic leg, it is far from a lifetime solution. Because of changes to the person's stump, the socket is replaced as the person's body adjusts to the prosthetic. The entire prosthetic is often replaced while there is still a large amount of useful life left in some, or all, of its component. Over the years, patients often accumulate several old prosthetics that are now useless to them, but still have plenty of usable life remaining. Donated prosthetics enables Arise and Walk to recycle them and provide high-quality prosthetics to people in Nigeria who otherwise would not be able to afford even a low-quality prosthetic. If you'd like to learn more about donating your prosthetic, see here.
Why No Monetary Donations?
Working on the ground in Nigeria and watching how "ministries" care for the weak, we have seen many that sound very righteous in the United States which act very unrighteously overseas. Because of the difficulty of tracking money through third world countries, it is very easy to defraud those who are desiring to help those in need. Because Reformation Baptist Church is currently blessed with the resources to wholly fund this ministry, and because we know from scripture that money is the root of all kinds of evil, to avoid any temptation, all money that is required is funded by the church.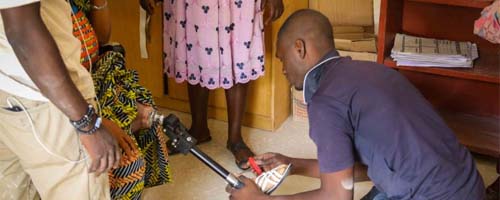 About
Facts and Figures
Arise and Walk Ministries
In operation since 2017
Incorporated in Nigeria as an NGO in 2019
Employs 2 people, all based in Jos, Nigeria (Jos is located in Plateau State)
Between 2018 and August 2020, have provided prosthetics for 82 people at no cost and 24 at a discounted rate.
Dynamic Prosthetics Nigeria
In operation since 2017
Employs 5 people, all based in Jos, Nigeria. The local staff includes one fully trained and certified prosthetist, two staff trained to make and adjust legs and one trained technician.
Between 2018 and August 2020, Dynamic Prosthetics Nigeria has provided 149 prosthetics (including repairs), with 55% of those delivered for free, and 16% of those delivered at a discounted rate.
Nigerian and American owned. All Americans involved will donate 100% of any distributed profit to Arise and Walk.
Amputees in Plateau State, Nigeria
According to the Disability Commissioner there are approximately 10,000 amputees out of a population of 3.1M (0.32% of population). The lower rate per capita is likely due to lower survival rates of trauma that would cause amputation in Nigeria, and lower rates of diabetes (although that is on the rise). Of these 10,000 in Plateau State, only 200 (2%) are estimated to have a prosthetic.
Board of Arise and Walk
American Members
Daniel Horn
Jeff Arnette
Joshua Horn
Jonathan Sides
Charles Churchill
Roger Boutin
Nigerian Members
Zingak Deshi
Jerry Agabison
Mutah Madu Ma'aji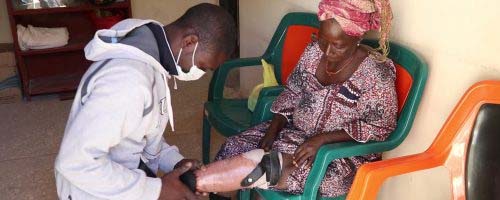 Donating a Prosthetic
Prosthetic components are generally not reused in the United States because of warranty and legal considerations. However, used prosthetic limbs may be disassembled and the components shipped to countries like Nigeria for use there. Donated prosthetic legs are dismantled to their component level in the US then sent to Arise and Walk in Nigeria to provide prosthetics for those who could not otherwise afford one.
When you donate your old prosthetic, you may be able to claim a tax deduction. Check with your tax adviser as to whether you can claim the donation as a tax deduction. You may also view IRS publications on deductions here.
Send your prosthetics, either whole or in part, including broken components, disassembled or complete. Reformation Baptist Church will send a receipt upon request for an in-kind donation.
We are happy to pay the shipping cost to get your donation to us. Please contact us and we will arrange shipping.
Pickup or drop off can also be arranged in the Tulsa, Oklahoma and Raleigh, North Carolina areas.
Reformation Baptist Church
Attn: Arise and Walk
8229 Zebulon Road
Youngsville, NC 27596
Contact Us
Email
ariseandwalk@reformationbaptistchurch.com
Mailing Address
Reformation Baptist Church
Attn: Arise and Walk
8229 Zebulon Road
Youngsville, NC 27596